Looking to throw a party that everyone is sure to enjoy? Santangelo's Party Center is here to provide you with the two most important services: catering and venue rental. We're here to make sure your guests have a delicious assortment of food options, as well as a place to enjoy themselves.
Catering services
Santangelo's Catering can accommodate groups from 35 to 3,500, no matter what occasion you're celebrating! We're the affordable choice for birthday and wedding catering in Stark County, OH and offer you a wide selection of entrée options, to ensure all of your guests are satisfied. Our versatility also makes us great for occasions of all types, including:
Wedding receptions
Golf outings
Senior citizens luncheons
Community event luncheons & dinners
High school proms & reunions
Sports banquets
Business award banquets
Bowling banquets
Church banquets
Fundraising events
Your backyard picnic
Company picnics & BBQs
Grand openings
Tenure award/recognition banquets
Rehearsal dinners
Conferences
Business seminars
Bar mitzvahs & Bat mitzvahs
Graduations & anniversaries
50th birthday parties
Dinner dances
Holiday party catering
We invite you to ask us about our various menus, which can be customized and tailored to your specific event. Whether you want down home comfort BBQ at your family reunion or something light and healthy from your corporate caterer in Stark County, OH, we've got you covered.
Get in touch with us today to discuss the number of people attending your event, the nature of the occasion and possible entrees—we'll be happy to provide you with a free quote for catering services.
Banquet hall rental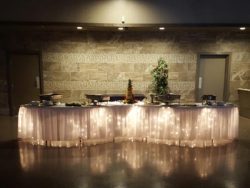 If you need a place to host your event, look no further than the Santangelo's Party Center! Our recently-remodeled venue can accommodate up to 500 guests and tailored to set the mood for any occasion. It features bright LED ceiling lighting, glass wall tile and remodeled bathrooms for an upscale feel at an affordable price. Whether you're tying the knot with a classy wedding ceremony, hosting a corporate event or celebrating a birthday, our doors are open to you and your guests.
For more information about our facilities or catering capabilities, please contact us today by calling 330-456-1556. We'll be happy to discuss your event with you and provide you with a personalized quote on services.