Catering Service in Canton, OH
Let Us Help You Celebrate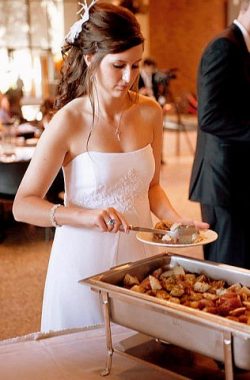 A key to throwing a great celebration is food. Great food is the perfect centerpiece to any event, and will set the tone for the entire celebration. Santangelo Catering will make sure that whatever you're celebrating, people will have a great time! Our catering service in
Canton, Stark County includes Canton, Massillon, Perry Heights, West Manor, and Reedurban, OH We also serve in Summit. Portage, Wayne and Tuscarawas Counties in Ohio. Menus can be customized for your specific tastes. Whether you're in the market for an elegant wedding reception or just welcoming friends and family to a laid-back BBQ, we're here to serve up food they'll love. We promise they'll be talking about your event for months to come!
We're a ServSafe-certified company, giving you peace of mind when it comes to food handling and serving.
We cater for any occasion, including weddings, sports banquets, corporate events and more.
We're pleased to provide personalized quotes to all of our customers.
Whether catering for 35 or 3,500 people we're pleased to provide personalized quotes for you. Please fill out our request form now!
Areas Served
Stark County, OH
Summit County, OH
Portage County, OH
Wayne County, OH
Tuscarawas County, OH